We will post all of the advice we receive on the Corona Virus, from Official Sources on this page.
oooo0000oooo
Coronavirus (Covid-19) briefing – Monday 22 February 2021
Priority six focus for vaccine programme
The Scottish Government has announced that priority group six – people with underlying health conditions and unpaid carers – are beginning to receive coronavirus (COVID-19) vaccinations.
Priority group 6 is one of the largest on the Joint Committee on Vaccination and Immunisation (JCVI) list.
The first to be invited will be people who have conditions which are included on both the JCVI priority list and the flu vaccine list. Although there is some overlap, the two lists are not exactly the same. They will be invited at the same time as unpaid carers who receive carers' benefits or who have been identified by GPs.
Carers who do not receive carers benefits, and who have not been identified by GPs, will be asked to come forward to register for their vaccine at a later date through an online portal or the national helpline. Work is also ongoing to identify people with underlying conditions who are not on the modified flu vaccine list, and they will be invited shortly.
Anyone aged 70 or over who has not yet been invited for their vaccine should visit nhsinform.scot for further advice, or call the national helpline on 0800 030 8013.
The full statement published by the Scottish Government on their website inclydes a list of conditions set out in priority group six for people aged 16 to 64: https://www.gov.scot/news/next-stage-for-vaccine-programme/
Care home visits to resume
Routine indoor visiting of care home residents by relatives, friends and carers will be able to resume from early March with care providers supporting residents to have up to two designated visitors each and one visit a week for each visitor, the Scottish Government has announced.
With a wide range of protections now in place against COVID-19 for care home residents, it is has been decided meaningful contact should be made easier for the wellbeing of residents and their loved ones.
The most recent of these protections is the COVID vaccine with more than 99.9% of older care home residents and 92% of staff now vaccinated with first dose. Additionally, the national picture of coronavirus outbreaks in care homes is improving. NRS data shows that deaths from coronavirus in care homes have fallen by 62% in the last three weeks and the balance is now in favour of allowing contact to resume.
Guidelines to be published on Wednesday 24 February will support care providers to resume visiting for up to two designated visitors per resident. Every time someone goes into a care home it is a COVID risk.
Read the full statement on the Scottish Government website at: https://www.gov.scot/news/care-home-visits-to-resume/
Close contacts to be offered testing
Anyone who is identified as a close contact of somebody who has tested positive for coronavirus (COVID-19) will be asked to get tested.
The measure is designed to find asymptomatic cases that would otherwise go undetected, as close contacts are at higher risk than the wider population, given their exposure to somebody with COVID-19.
Previously, outbreak Incident Management Teams (IMTs) have had the ability to order testing of close contacts on a case-by-case basis, in line with local assessment of clinical risk.
Now everyone who has been identified as a close contact via the Protect Scotland app, or through manual contact tracing, will be provided with instructions on how to book a PCR test.
The full statement is available at the Scottish Government website at: https://www.gov.scot/news/close-contacts-to-be-offered-testing/ and more information on covid-19 contract tracing in Scotland is available from the NHS inform website: https://www.nhsinform.scot/illnesses-and-conditions/infections-and-poisoning/coronavirus-covid-19/test-and-protect/coronavirus-covid-19-contact-tracing
Schools campaign launched
Parent Club have developed a campaign to help parents and their children to feel supported in abiding with all current restrictions throughout the phased return to schools and ELC settings.
By following the rules, parents and children can help keep schools and nurseries open, and will help to open the school gates for more pupils. This campaign launches today (Monday 22 February 2021) and run on digital and social channels until Wednesday 24 March 2021.
The key messages of the campaign are aligned with the content of the Jason Leitch letter, which has been sent to all parents of ELC and P1-3 children.
Messaging:
Adults wear face coverings at drop off/pick up
Stick to one adult at pick up/drop off
Adults keep 2 metres apart
Avoid car sharing
Self-isolate if anyone in your household has symptoms
Schools return in the media
The return of school pupils in Inverclyde was featured across the UK on ITV's Good Morning Britain breakfast show with live broadcasts highlighting the measures schools have in place to support young people with the broadcast starting around 6am from St John's Primary School.
Kilmacolm Priamry School is expected to feature on Channel 4 News tonight, Ardgowan Primary School parents and staff were interviewed by Channel 5 News with St Patrick's Primary interviewed by the Greenock Telegraph while Inverkip Primary School were interviewed by Radio Clyde and print and digital media across the country.
If your service is doing something to keep people safe during the covid pandemic, contact the communications, tourism and health and safety service at media@inverclyde.gov.uk
Employers testing portal
From 26 February 2021 the employers referral portal Covid 19 testing will no longer be available. This has been used by the Council to book priority covid 19 tests for staff or household members of essential workers.
Symptomatic essential workers have been able to book tests directly through the self-referral portal since December 2020. The self-referral portal provides essential workers with a more streamlined journey, making it simpler for them to book prioritised test slots and ensures that they can access tests when needed.
To ensure they receive a prioritised slot, essential workers should tick the relevant box on the self-referral portal to indicate their status.
From Friday 26 February 2021 staff should book tests directly via the self-referral portal at https://www.gov.uk/get-coronavirus-test and not via either covid.test@inverclyde.gov.uk or school.covidtest@inverclyde.gov.uk.
It remains essential that if you have symptoms of Covid 19, no matter how mild, or if you suspect that you may have caught it, self-isolate and book a test. Do not attend work, do one last shop or, go to meet someone.
oooo0000oooo
Guidance on new stay at home regulations coming into effect on 5 January 2021.
From Tuesday 5 January, mainland Scotland will move from Level 4 to a temporary Lockdown, with new guidance to stay at home except for essential purposes. Some islands will remain at Level 3.
Coronavirus (COVID-19): stay at home guidance.
Stay at Home
To minimise the risk of spreading the virus, you must stay at home as much as possible. By law, in a level 4 area, you can only leave your home (or garden) for an essential purpose.
There is a list of examples of reasonable excuses below. Although you can leave home for these purposes, you should stay as close to home as possible. Shop on-line or use local shops and services wherever you can. Travel no further than you need to reach to a safe, non-crowded place to exercise in a socially distanced way. To minimise the risk of spread of Coronavirus it is crucial that we all avoid unnecessary travel.
Examples of reasonable excuses to go out:
for work or an activity associated with seeking employment, or to provide voluntary or charitable services, but only where that cannot be done from your home.
for education including, school, college, university or other essential purposes connected with a course of study.
for essential shopping, including essential shopping for a vulnerable person. You should use online shopping or shops and other services in your immediate area wherever you can.
to obtain or deposit money, where it is not possible to do so from home.
for healthcare, including COVID-19 testing and vaccination.
for childcare or support services for parents or expectant parents.
for essential services, including services of a charitable or voluntary nature such as food banks, alcohol or drug support services.
to access public services where it is not possible to do so, including from home:

services provided to victims (such as victims of crime),
social-care services,
accessing day care centres,
services provided by the Department for Work and Pensions,
services provided to victims (including victims of crime),
asylum and immigration services and interviews,
waste or recycling services,

to provide care, assistance, support to or respite for a vulnerable person
to provide or receive emergency assistance.
to participate in or facilitate shared parenting.
to visit a person in an extended household.
to meet a legal obligation including satisfying bail conditions, to participate in legal proceedings, to comply with a court mandate in terms of sentence imposed or to register a birth.
for attendanceat court including a remote jury centre, an inquiry, a children's hearing, tribunal proceedings or to resolve a dispute via Alternative Dispute Resolution.
for essential animal welfare reasons, such as exercising or feeding a horse or going to a vet.
local outdoor recreation, sport or exercise, walking, cycling, golf, or running that starts and finishes at the same place (which can be up to 5 miles from the boundary of your local authority area) as long as you abide by the rules on meeting other households
to attend a marriage ceremony or registration of a civil partnership.
to attend a funeral or for compassionate reasons which relate to the end of a person's life. This includes gatherings related to the scattering or interring of ashes, a stone setting ceremony and other similar commemorative events.
if you are a minister of religion or worship leader, for the purposes of leading an act of worship (broadcast or online), conducting a marriage or civil partnership ceremony or a funeral.
to donate blood.
for activities in connection with moving home (including viewing a property), or for activities in connection with the maintenance, purchase, sale, letting, or rental of residential property that the person owns or is otherwise responsible for. Travelling for the purposes of undertaking essential work on a property other than your main residence should not be used as a pretext for a holiday. You should not stay longer than for the length of time required to undertake the necessary work.
to avoid injury, illness or to escape a risk of harm.
for those involved in professional sports, for training, coaching or competing in an event.
to visit a person receiving treatment in a hospital, staying in a hospice or care home, or to accompany a person to a medical appointment.
to register or vote in a Scottish or UK Parliament, Local Government or overseas election or by-election, including on behalf of someone else by proxy
to visit a person detained in prison, young offenders institute, remand centre, secure accommodation or other place of detention.
ooo000ooo
Inverclyde Council Daily Update.
This is a large update from Inverclyde Council and is available from their website Here.
ooo000ooo
Coronavirus (Covid-19) briefing – Friday 11 December 2020
Coronavirus (COVID-19) vaccine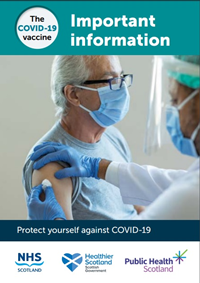 Guidance and advice is published at the NHS inform website on the roll out of the Coronavirus (COVID-19) vaccine. The site includes useful guidance on a range of topics including:
Who will be offered the coronavirus vaccine
When and where you will get your coronavirus vaccinations
About the vaccine used to protect against coronavirus
At your coronavirus vaccination appointment
Pregnancy, breastfeeding and the coronavirus vaccine
Side effects of the coronavirus vaccine,and
Coronavirus vaccine leaflets
Changes to public health requirements for positive contacts and overseas arrivals
Anyone required to self-isolate, due to contact with someone who has had a positive test for coronavirus (COVID-19), or as a result of quarantine rules on arrival from overseas will need to do so for 10 days following updated clinical advice. Currently the self-isolation period for international travellers and for contacts of positive cases in Scotland is 14 days but this will change from next Monday.
The Scottish Government has announced that following a review of the latest evidence and discussions between the 4 UK Chief Medical Officers they are now confident that the self-isolation period can be reduced to 10 days.
The change, taking effect from Monday 14 December 2020, will apply as follows:
Someone who, from 14 December, has been contacted through Test and Protect – including by the scot app – or their Local Health Board and have been notified to self-isolate, should do so for 10 days.
Someone who, from 14 December, is required to quarantine following arrival into Scotland from overseas, should self-isolate for a period of 10 days.
Someone who was previously instructed to self-isolate will, from 14 December, be able to stop self-isolating ten days from when they were first notified to do so.
Close contacts include members of the same household who test positive for COVID-19 – from 14 December, they will now only need to isolate for 10 days, rather than 14.
The Scottish Government website contains further information on how contact tracing works and on international travel and quarantine requirements.
Care home visiting
A care home pilot supporting safe visiting has been featured on STV News. The article featured pals of 60 years Ella and June meeting at Bagatelle care home in Greenock which is part of a national pilot scheme. The article is available to view on the STV player until 6.30pm this evening (Friday 11 December 2020).
Emergency funding for sport
The Scottish Government has announced a £55 million emergency sports funding package to tackle lost ticket revenue during the pandemic. The funding package includes:
Scottish Football – £20 million loan funding for the Scottish Premiership and £10 million in grants for all other levels outwith the Premiership – including tiers below the SPFL and women's football
Scottish Rugby – £15 million in grants and £5 million in loan funding
Basketball – £300,000 in grants
Netball – £100,000 in grants
Motorsport – £400,000 in grants
Ice Hockey and Ice rinks – £200,000 in grants for ice hockey and £2 million in grants for ice rinks
Horseracing – £2 million in grants
The full emergency funding for sport announcement is available to read on the Scottish Government website.
Travel restrictions updated
A ban on travel to and from Jersey is being introduced following a significant increase in the number of positive cases of coronavirus (COVID-19). The ban will take effect at 6pm today (Friday 11 December 2020), alongside the lifting of travel restrictions to and from most of the Republic of Ireland.
Travellers arriving in Scotland this weekend from the Canary Islands must self-isolate on arrival. A significant increase in the proportion of cases testing positive in these islands, alongside a rise in the number of cases of coronavirus being identified, and the associated risk of importation into Scotland has led to the decisions to remove exemption status.
At the same Botswana and Saudi Arabia are being added to the list of destinations exempt from the current 14-day quarantine period on arrival in Scotland.
All these changes take effect from 4am Saturday 12 December 2020.
Those travelling abroad should check in advance for any local requirements to quarantine on arrival at their destination. Further information about the foreign travel public health rules, including quarantine requirements, can be read on the Scottish Government website. This includes the existing list of overseas destinations where those arriving in Scotland are exempt from self-isolation.
Zero waste food pantry open
Fresh food at affordable prices is on the menu for Inverclyde residents to support families and tackle waste. The council has teamed up with Inverclyde Community Development Trust (The Trust) to open a new community food pantry, 'The Pantry', in Grieve Road in Greenock. It will be stocked with perfectly good, surplus goods to help reduce waste while providing high quality, fresh produce for residents across the district.
ooo000ooo
Today (Monday 2 November 2020) Inverclyde enters level three of the new Scottish Government five-tier system of coronavirus restrictions.
The local authority levels were confirmed in 29 October 2020 and come into force today. The Scottish Government has published Coronavirus (COVID-19): allocation of levels to local authorities which includes the allocation of levels, the modelling paper and covid-19 indicators.
The Scottish Government website includes a breakdown of what you can and cannot do in level three. You can also check the restriction in your local area by using the new post code checker.

Updated schools guidance
Guidance on school safety has been updated to take account of public health advice and Scotland's new approach to suppressing coronavirus (COVID-19). The guidance, which outlines additional protection measures at all five levels in the Scottish Government's strategic framework, comes into force today (Monday 2 November 2020). A letter was issued to parents on Friday advising of the new measures.
Schools and services affected by covid-19 cases
Since the weekend the following schools have been affected by covid positive cases at St Stephen's High School; St Mary's Primary School and Notre Dame High School. Parents and carers of pupils affected or requiring to self-isolate by any of the cases have received communication through the school. St Columba's School in Kilmacom has closed its nursery and the after school club will move to Kilmacolm Primary School. UPDATE: The after school club remained at St Columba's School and did not relocate to Kilmacolm Primary School after appropriate space was available in the school.

Face covering exemption cards launched
The Scottish Government has produced a face covering exemption card, to support those who are unable to wear one to feel more confident and safe when accessing public spaces and using public services. Physical and digital cards are available to request online at www.exempt.scot or by calling the free helpline on 0800 121 6240.

Further countries designated for public health quarantine
Travellers from Cyprus and Lithuania must quarantine on arrival in Scotland for 14 days from 4am on Sunday (1 November). This is due to a significant rise in cases of coronavirus (COVID-19) as well as an increase in the numbers of cases testing positive, as well as the associated risk of importation into Scotland. Find out more about Coronavirus (COVID-19): international travel and quarantine including the existing list of overseas destinations where those arriving in Scotland are exempt from self-isolation.
oooo0000oooo
Government Update, 28th October 2020.
Find out the coronavirus restrictions in your local area. The Government has created a Postcode based search to help you with the latest levels Here
The latest Scottish Restrictions can be found on the Scottish Government Website, and below
The new Prevention Tiers introduced by the Scottish Government are as follows.
Click on each level to go to the relevant page.
These Levels may change in content in the future.
oooo0000ooo
Want to Volunteer, but don't know where to start?
Whether it's practical or emotional support, there are lots of ways you can volunteer to help.
For some that may be right now in helping to manage the crisis, for others there will be roles in the weeks and months to come.
But for many of us, the most helpful thing we can do to support our NHS and our communities is to stay at home to save lives.
You can only volunteer to carry out tasks which involve leaving your home, once a day, if you are not required to be isolating and are not in any risk categories. Please check the latest advice at NHS Inform.
To sign up, please follow the relevant links below:
Please be assured that as soon as your help is needed, you will be contacted. Where possible your offer will be matched with specific needs.
I need to stay at home – can I still help?
You can still help even if you need to stay at home by signing up to provide telephone support. This way you can help keep in contact and provide reassurance to those in need.
Business offers of help
If you represent a business and would like to volunteer your services, please email covid19response@gov.scot. We will respond to you as quickly as possible.
Source:- https://www.readyscotland.org/coronavirus/volunteering
oooo0000oooo
CORONAVIRUS ADVICE FOR EQUESTRIANS
The community council has been asked to circulate this advice.
Please read our information and advice for our members and horse owners during the Coronavirus (Covid-19) outbreak.
https://www.bhs.org.uk/advice-and-info…/coronavirus-covid-19
oooo0000oooo
oooo0000oooo
oooo0000oooo
oooo0000oooo